Investing.com - Oil futures drifted lower in the early part of Tuesday's Asian session as traders glossed over the closure of a Canadian pipeline to focus more on the possibility that U.S. quantitative easing will soon come to an end.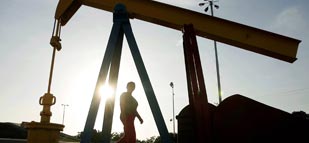 On the New York Mercantile Exchange, light, sweet crude futures for August delivery fell 0.44% to USD94.76 per barrel in Asian trading Tuesday after settling down 0.06% at USD94.90 a barrel on Monday in the U.S.
Pipeline closures from Canada to the U.S. due to flooding sent prices rising on Monday, briefly encouraging traders to think of something other than the end of U.S. stimulus efforts.
Commodities bulls are still concerned over the near-term fate of hard assets after Federal Reserve Chairman Ben Bernanke said last week that monetary stimulus measures may taper this year and possibly end next year if the economy improves. The end of U.S. quantitative easing is expected to be supportive of the U.S. dollar.
In U.S. economic news out Monday, the Federal Reserve Bank of Philadelphia said late last week that its manufacturing index rose to 12.5 in June from -5.2 in May, well above expectations for a -2.0 reading.
A separate report showed that U.S. existing home sales climbed 4.2% to 5.18 million units in May from April's total of 4.97 million, far surpassing market calls for a 0.6% increase.
Elsewhere, the U.S. Federal Trade Commission announced an investigation into how oil prices are set, following the lead of the European Union, which is looking into the same matter. The FTC declined to fully comment on the still preliminary investigation.
Meanwhile, Brent futures for August delivery fell 0.17% to USD100.88 per barrel on the ICE Futures Exchange.