Investing.com - Natural gas prices jumped up on Tuesday after bottom fishers entered the market and snapped up nicely priced positions in the commodity, which dropped on Monday on weather reports calling for a break in a U.S. heat wave.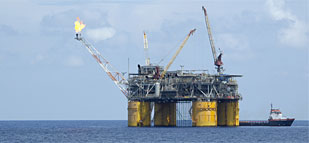 In the New York Mercantile Exchange, natural gas futures for delivery in August traded at USD3.745 per million British thermal units, up 1.84%.
The commodity hit a session low of USD3.660 and a high of USD3.762.
Weather reports calling for milder temperatures to edge out a blistering heat wave gripping much of the eastern U.S. sent prices plunging on Monday.
Industry weather group MDA Weather Services and the U.S. National Weather Service have predicted normal to even below-normal temperatures to return to parts of the eastern half of the nation for the next five days.
Mild summer temperatures reduce the need for gas-fired electricity to cool homes and businesses, though by Tuesday, investors viewed the commodity as oversold, especially since the arrival of autumn in the northern hemisphere is still close to two months away.
Meanwhile, U.S. supply levels also remained in focus. Total U.S. natural gas storage stood at 2.745 trillion cubic feet as of last week, 1.2% below the five-year average and 13% below last year's level.
Early injection estimates for this week's storage data range from 45 billion cubic feet to 60 billion cubic feet, compared to a 26 billion cubic feet increase during the same week a year earlier.
The five-year average for the week is a build of 53 billion cubic feet
Elsewhere on the NYMEX, light sweet crude oil futures for delivery in September were up 0.03% and trading at USD106.97 a barrel, while heating oil futures for August delivery were up 0.15% at USD3.0710 per gallon.