Investing.com - Natural gas futures erased earlier losses on Thursday and rose after investors viewed the commodity as oversold.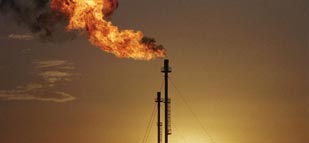 Bearish supply data showing supplies fell less than expected last week sent prices plunging earlier to attractive levels.
On the New York Mercantile Exchange, natural gas futures for delivery in March traded at USD3.354 per million British thermal units, up 0.58%.
The commodity hit a session low of USD3.244 and a high of USD3.393.
Prices tumbled earlier after the U.S. Energy Information Administration said in its weekly report that natural gas storage in the U.S. in the week ended Jan. 25 fell by 194 billion cubic feet, compared to expectations for a drop of 206 billion cubic feet.
Inventories fell by 149 billion cubic feet in the same week a year earlier, while the five-year average change for the week is a decline of 178 billion cubic feet.
Total U.S. natural gas storage stood at 2.802 trillion cubic feet as of last week. Stocks were 202 billion cubic feet less than last year at this time and 304 billion cubic feet above the five-year average of 2.498 trillion cubic feet for this time of year.
The report showed that in the East Region, stocks were 102 billion cubic feet above the five-year average, following net withdrawals of 129 billion cubic feet.
Stocks in the Producing Region were 153 billion cubic feet above the five-year average of 860 billion cubic feet after a net withdrawal of 47 billion cubic feet.
Meanwhile, natural gas traders continued to closely track weather forecasts for the next few weeks in an attempt to gauge the strength of winter heating demand.
Updated weather forecast models released earlier this week pointed to milder temperatures setting in the middle of February, giving the U.S. Midwest and Northeast a break from below-normal temperatures that have pushed up energy prices.
The Commodity Weather Group predicted above-normal temperatures in the eastern half of the U.S. from Feb. 7 through Feb. 11.
Natural gas futures are very sensitive to weather reports in the U.S. winter.
The U.S. heating season running from November through March sees peak demand for gas.
About half of U.S. households use gas for heating purposes, according to Energy Department data.
Elsewhere on the NYMEX, light sweet crude oil futures for delivery in March were down 0.42% and trading at USD97.53 a barrel, while heating oil for March delivery were up 0.32% and trading at USD3.1187 per gallon.