Investing.com - Natural gas prices erased last week's losses and rose on Monday after updated weather forecasting models called for above-normal temperatures to linger across much of the U.S. into autumn.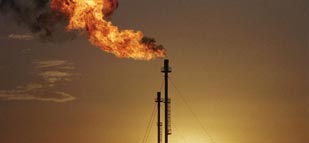 On the New York Mercantile Exchange, natural gas futures for delivery in October traded at USD3.574 per million British thermal units during U.S. trading, up 1.23%. The October contract settled down 1.26% at USD3.530 per million British thermal units on Friday.
The commodity hit a session low of USD3.532 and a high of USD3.591.
The U.S. Energy Information Administration said in its weekly report that natural gas stockpiles rose by 58 billion cubic feet in the week ending Aug. 30, more than an expected 54 billion increase after a 67 billion rise the previous week.
The numbers sent prices falling by stoking concerns supplies may be outstripping demand.
By Monday, however, updated weather forecasting models pointed to above-normal temperatures to remain in place over much of the eastern half of the U.S. though Sept. 23, which sent prices rising.
Demand for natural gas tends to rise amid heat waves, as homes and businesses throttle up their air conditioners.
Temperatures across much of the Midwest could surge, which sent prices gaining even further.
The Weather Channel earlier said temperatures could rise into the upper 90s (Fahrenheit) across portions of the Midwest including Chicago this week.
Elsewhere on the NYMEX, light sweet crude oil futures for delivery in October were down 0.89% and trading at USD109.55 a barrel, while heating oil for October delivery were down 1.23% and trading at USD3.1246 per gallon.