Investing.com - Natural gas futures rose on Friday as bargain hunters snapped up nicely priced positions after official data released on Thursday's revealed U.S. supplies rose way more than expected last week.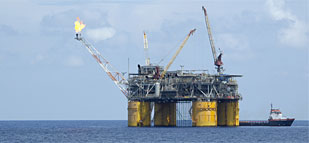 On the New York Mercantile Exchange, natural gas futures for delivery in June traded at USD4.043 per million British thermal units, up 0.43%.
The commodity hit a session low of USD3.979 and a high of USD4.059.
The U.S. Energy Information Administration said in its weekly report on Thursday that natural gas storage in the U.S. in the week ending April 26 rose by 43 billion cubic feet, well above expectations for an increase of 28 billion cubic feet.
The numbers sent gas prices nose-diving down by close to 7% on Thursday before bottom-fishers jumped in on Friday and stabilized the sell-off
Inventories rose by 31 billion cubic feet in the same week a year earlier, while the five-year average change for the week is a rise of 67 billion cubic feet.
Total U.S. natural gas storage stood at 1.777 trillion cubic feet as of last week. Stocks were 795 billion cubic feet less than last year at this time and 118 billion cubic feet below the five-year average of 1.895 trillion cubic feet for this time of year.
The report showed that in the East Region, stocks were 120 billion cubic feet below the five-year average, following net injections of 18 billion cubic feet.
Stocks in the Producing Region were 52 billion cubic feet below the five-year average of 786 billion cubic feet after a net injection of 20 billion cubic feet.
Markets were expecting supplies to rise at a much lower clip due to persistently cold weather lingering over much of the heavily populated eastern half of the U.S. during March and early April.
Elsewhere on the NYMEX, light sweet crude oil futures for delivery in June were up 1.79% and trading at USD95.37 a barrel, while heating oil futures for June delivery were up 1.23% at USD2.8906 per gallon.