Investing.com - Natural gas futures gained ground on Monday, recovering from three-month lows as forecasts for warmer weather boosted the demand outlook for the fuel from power plants.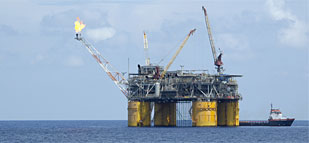 On the New York Mercantile Exchange, natural gas futures for delivery in July traded at USD3.857 per million British thermal units during U.S. morning trade, up 0.74% on the day.
Weather forecasting models pointed to above-normal temperatures across most of the U.S. over the next week to two weeks, with only the West Coast and New England experiencing lower-than-average temperatures.
Demand for natural gas tends to rise in the summer months as warmer temperatures increase the need for gas-fired electricity to power air conditioning.
On Friday, natural gas futures fell to three-month lows of USD3.817 per million British thermal units following forecasts for milder weather and a larger-than-expected supply increase.
The U.S. Energy Information Administration said in its weekly report that natural gas storage in the week ended May 31 rose by 111 billion cubic feet, above expectations for an increase of 95 billion.
Inventories rose by 72 billion cubic feet in the same week a year earlier, while the five-year average change for the week is a rise of 92 billion cubic feet.
Total U.S. natural gas storage stood at 2.252 trillion cubic feet as of last week.
Elsewhere on the NYMEX, light sweet crude oil futures for delivery in July was down 0.19% to trade at USD95.85 a barrel, while heating oil for July delivery dipped 0.03% to USD2.892 per gallon.