Investing.com - Natural gas futures edged higher for the fourth consecutive day during U.S. morning hours on Tuesday to hit the highest level since December, as traders try to gauge the impact of shifting forecasts on late-winter heating demand.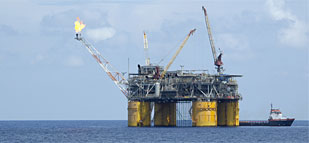 On the New York Mercantile Exchange, natural gas futures for delivery in April traded at USD3.663 per million British thermal units during U.S. morning trade, up 0.4% on the day.
Prices rose by as much as 0.7% earlier in the day to hit a session high of USD3.675 per million British thermal units, the strongest level since December 7.
Natural gas prices have rallied sharply in recent weeks. The heating fuel has risen nearly 15% since falling close to a four-month low of USD3.125 per million British thermal units on February 15, boosted by calls for colder temperatures in major consuming regions across the U.S.
Despite recent gains, market analysts have warned that prices remain vulnerable in the near-term as the coldest part of the winter has effectively passed and inventory levels remain bloated.
Updated weather forecasts released earlier pointed to milder temperatures across most parts of the U.S. in the near-term.
In its one to five-day weather outlook, industry group MDA Weather Services said that warmer temperatures were expected in the western U.S.
The heating season from November through March is the peak demand period for U.S. gas consumption. Nearly 50% of all U.S. households use gas for heating.
Concerns over bloated inventory levels were also likely to keep weighing on prices. Total U.S. natural gas storage stood at 2.083 trillion cubic feet as of last week, 14.8% above the five-year average for this time of year.
Early withdrawal estimates for this week's storage data range from 88 billion cubic feet to 139 billion cubic feet.
Inventories fell by 66 billion cubic feet in the same week a year earlier, while the five-year average change for the week is a decline of 74 billion cubic feet.
Elsewhere on the NYMEX, light sweet crude oil futures for delivery in April rose 0.8% to trade at USD92.81 a barrel, while heating oil for April delivery shed 0.1% to trade at USD2.967 per gallon.