Investing.com - Natural gas futures edged mildly lower on Tuesday, as investors were hesitant to drive prices higher one day after futures notched the biggest one-day gain in nearly a month.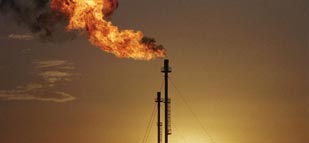 Traders continued to focus on near-term weather forecasts to gauge the strength of demand for the fuel.
On the New York Mercantile Exchange, natural gas futures for delivery in September traded at USD3.300 per million British thermal units during U.S. morning trade, down 0.3%.
Nymex gas futures held in a range between USD3.265 per million British thermal units, the daily low and a session high of USD3.334 per million British thermal units.
The September contract settled up 2.5% at USD3.310 per million British thermal units on Monday, after forecasts for late August turned warmer, boosting near-term demand expectations for the heating fuel.
Forecasts originally called for mild summer weather during the period.
Updated weather forecasting models pointed to hotter-than-normal temperatures in the northern tier of the U.S. from August 17 through August 26, boosting summer cooling demand for the fuel.
Demand for natural gas tends to fluctuate in the summer based on hot weather and air conditioning use.
The September contract has lost nearly 14% over the past three weeks, the biggest three-week drop in eight months, amid concerns over rising inventories and lingering below normal temperatures in the key Midwest and Eastern U.S. markets.
Total U.S. natural gas storage stood at 2.941 trillion cubic feet as of last week, 0.7% above the five-year average and rising to a surplus for the first time since March.
Early injection estimates for this week's storage data range from 62 billion cubic feet to 77 billion cubic feet, compared to a 20 billion cubic feet increase during the same week a year earlier.
The five-year average for the week is a build of 42 billion cubic feet.
Elsewhere on the NYMEX, light sweet crude oil futures for delivery in September shed 0.3% to trade at USD105.77 a barrel, while heating oil for September delivery added 0.7% to trade at USD3.041 per gallon.