Investing.com - Natural gas futures fluctuated between gains and losses during U.S. morning trade on Tuesday, as market players continued to focus on shifting weather forecasts for the next few weeks to gauge the strength of U.S. heating demand.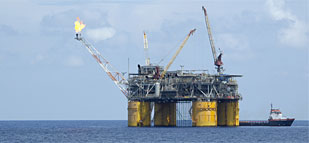 Natural gas prices have closely tracked weather forecasts in recent weeks, as traders try to gauge the impact of shifting forecasts on winter heating demand.
On the New York Mercantile Exchange, natural gas futures for delivery in February traded at USD3.393 per million British thermal units during U.S. morning trade, up 0.6% on the day.
The February natural gas contract traded in a range between USD3.329 per million British thermal units, the daily low and a session high of USD3.430, the strongest level since December 31.
Natural gas future prices have rallied nearly 8% in the three sessions leading up to Tuesday, as forecasts showing colder weather in the coming week boosted near-term demand expectations for the heating fuel.
Last week's larger-than-expected drawdown from winter inventories also kept momentum to the upside.
However, traders were reluctant to push prices higher after updated weather forecasts called for above-normal readings for most of the West in the next six-to-ten days.
The heating season from November through March is the peak demand period for U.S. gas consumption. Nearly 50% of all U.S. households use gas for heating.
Meanwhile, market players continued to monitor U.S. inventory levels and still-high production levels.
Total U.S. natural gas storage stood at 3.316 trillion cubic feet as of last week, 2.6% below last year's level and 10.7% above the five-year average for this time of year.
Early withdrawal estimates for this Thursday's storage data range from 100 billion cubic feet to 143 billion cubic feet. Inventories fell by 89 billion cubic feet in the same week a year earlier, while the five-year average change for the week is a decline of 144 billion cubic feet.
Natural gas stockpiles fell by 201 billion cubic feet last week, the most since February 2011.
The heating fuel has lost nearly 15% since touching a 14-month high of USD4.001 per million British thermal units on November 26, on speculation that temperatures won't be cold enough to erase a surplus of the fuel in storage.
Elsewhere on the NYMEX, light sweet crude oil futures for delivery in February shed 0.25% to trade at USD93.86 a barrel, while heating oil for February delivery lost 0.4% to trade at USD3.049 per gallon.