Investing.com - Natural gas futures settled the week close to the highest level in more than a year on Friday, as forecasts showing colder-than-normal winter temperatures across key parts of the U.S. in the coming week boosted near-term demand expectations for the heating fuel.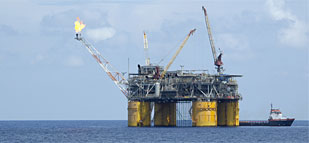 On the New York Mercantile Exchange, natural gas futures for delivery in December shed 0.45% Friday to settle at USD3.892 per million British thermal units by close of trade.
The December contract touched a high of USD3.930 per million British thermal units on Thursday, the strongest level since November 1, 2011.
On the week, front-month natural gas prices rallied 2.55%, the second consecutive weekly advance. The front-month December contract is due to expire at the end of trading on Wednesday, November 28.
Meanwhile, the more actively traded contract for January delivery settled at USD4.029 per million British thermal units, the highest since September 15, 2011.
Trading volumes were thin following Thursday's Thanksgiving Day holiday. NYMEX trading closed an hour early Friday.
Natural gas futures were boosted after updated weather forecasts showed that colder-than-normal temperatures were expected to descend on the U.S. East Coast and Midwest from November 26 through December 5.
Weather service provider AccuWeather said that temperatures in New York on November 30 could fall to as low as 27 degrees Fahrenheit (minus 3 Celsius), 10 below the usual reading.
Bullish speculators are betting on the colder weather increasing early-winter demand for the heating fuel. The heating season from November through March is the peak demand period for U.S. gas consumption.
Prices received an additional lift after Wednesday's U.S. Energy Information Administration's weekly supply report showed the second consecutive withdrawal of the winter heating season.
The EIA said that natural gas storage in the U.S. fell by 38 billion cubic feet, compared to expectations for drop of 27 billion cubic feet.
Inventories rose by 20 billion cubic feet in the same week a year earlier, while the five-year average change for the week is an increase of 3 billion cubic feet.
Total U.S. gas supplies stood at 3.873 trillion cubic feet. Stocks are 0.6% above year-ago levels and 4.5% above the five-year average for the week.
In March, after an exceptionally warm winter, stockpiles were approximately 60% above five-year levels.
Elsewhere in the energy complex, light sweet crude oil futures for January delivery settled at USD88.28 a barrel by close of trade on Friday, adding 1.3% on the week.
Meanwhile, heating oil for January delivery rose 2.85% over the week to settle at USD3.087 per gallon by close of trade Friday.