Investing.com - Natural gas futures ended Friday's session lower, as traders sold the commodity to lock in gains after prices hit a four-week high on Thursday.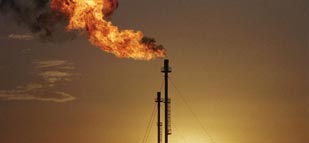 On the New York Mercantile Exchange, natural gas futures for delivery in October fell 1.5% on Friday to settle the week at USD3.521 per million British thermal units.
Nymex gas prices rallied 2.4% on Thursday to settle at USD3.575 per million British thermal units, the strongest level since July 26.
On the week, natural gas prices rose 3.1%, the second consecutive weekly advance.
Nymex gas futures rallied on Thursday after a report from the U.S. Energy Information Administration showed that natural gas supplies rose less-than-expected last week.
The U.S. EIA said that natural gas storage in the U.S. rose by 57 billion cubic feet last week, below market expectations for an increase of 69 billion cubic feet.
Inventories increased by 43 billion cubic feet in the same week a year earlier, while the five-year average change for the week is a build of 56 billion cubic feet.
Total U.S. natural gas storage stood at 3.063 trillion cubic feet as of last week, 1.5% above the five-year average and 7.2% below last year's level.
Early injection estimates for this week's storage data range from 53 billion cubic feet to 69 billion cubic feet, compared to a 64 billion cubic feet increase during the same week a year earlier.
The five-year average for the week is a build of 66 billion cubic feet.
Meanwhile, updated weather forecasting models pointed to warmer-than-normal temperatures across most parts of the U.S. Northeast and Midwest for late August, boosting near-term demand expectations.
Demand for natural gas tends to fluctuate in the summer based on hot weather and air conditioning use.
Elsewhere in the energy complex, light sweet crude oil futures for October delivery settled at USD106.37 a barrel by close of trade on Friday, shedding 0.85% on the week.
Meanwhile, heating oil for October delivery was little changed on the week to settle at USD3.099 per gallon by close of trade Friday.