Investing.com - Natural gas futures fell in U.S. trading on Friday after meteorological forecasts predicted warm weather patterns to extend across much of the country and cut into the need to heat homes and businesses.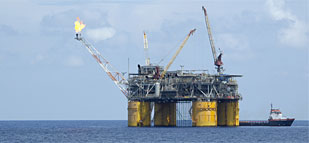 On the New York Mercantile Exchange, natural gas futures for delivery in June traded at USD4.146 per million British thermal units, down 1.30%.
Weather forecasting services predicted the heavily populated eastern half of the U.S. to experience seasonably warm temperatures next week.
Prices have risen in recent weeks due to below-normal temperatures in March and early April.
Gas use typically hits seasonal lows with spring's mild temperatures before hotter weather increases demand for gas-fired electricity generation to power air conditioning.
Investors quickly looked past Thursday's rather bullish supply data and sold the commodity to await reports of changing weather patterns.
The U.S. Energy Information Administration said in its weekly report that natural gas storage in the U.S. in the week ending April 19 rose by 30 billion cubic feet, below expectations for an increase of 32 billion cubic feet.
Inventories rose by 43 billion cubic feet in the same week a year earlier, while the five-year average change for the week is a rise of 50 billion cubic feet.
Total U.S. natural gas storage stood at 1.734 trillion cubic feet as of last week. Stocks were 807 billion cubic feet less than last year at this time and 94 billion cubic feet below the five-year average of 1.828 trillion cubic feet for this time of year.
The report showed that in the East Region, stocks were 100 billion cubic feet below a five-year average, following net injections of 21 billion cubic feet.
Stocks in the Producing Region were 53 billion cubic feet below a five-year average of 767 billion cubic feet after a net injection of 11 billion cubic feet.
Elsewhere on the NYMEX, light sweet crude oil futures for delivery in June were down 0.69% and trading at USD92.99 a barrel, while heating oil futures for May delivery were down 0.32% at USD2.8923 per gallon.