Investing.com - Natural gas prices headed lower on Monday after investors locked in gains and sold for profits.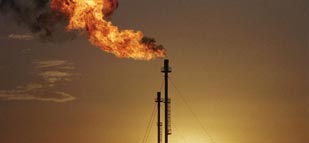 In the New York Mercantile Exchange, natural gas futures for delivery in July traded at USD3.807 per million British thermal units, down 0.55%.
The commodity hit a session low of USD3.780 and a high of USD3.867.
Weather forecasting models pointed to above-normal temperatures across most of the U.S. over the next week to two weeks, though parts of the West Coast and New England may experiencing below-average temperatures.
Demand for natural gas tends to rise in the summer months as warmer temperatures increase the need for gas-fired electricity to power air conditioning.
Prices rose earlier on the weather reports though profit taking kicked in and allowed for a modest selloff in Monday afternoon trading.
Prices dropped on Friday after the U.S. Energy Information Administration said in its weekly report on Thursday that natural gas storage in the U.S. in the week ended May 31 rose by 111 billion cubic feet, far above market expectations for an increase of 95 billion.
Inventories rose by 72 billion cubic feet in the same week a year earlier, while the five-year average change for the week is a rise of 92 billion cubic feet.
Total U.S. natural gas storage stood at 2.252 trillion cubic feet as of last week. Stocks were 616 billion cubic feet less than last year at this time and 69 billion cubic feet below the five-year average of 2.321 trillion cubic feet for this time of year.
The report showed that in the East Region, stocks were 106 billion cubic feet below the five-year average, following net injections of 58 billion cubic feet.
Stocks in the Producing Region were 10 billion cubic feet below the five-year average of 898 billion cubic feet after a net injection of 37 billion cubic feet.
While supply data sent prices falling by over 4% upon release, bottom fishers sent the commodity into positive territory on Friday and into early Monday before profit taking ensued.
Elsewhere on the NYMEX, light sweet crude oil futures for delivery in July were down 0.33% and trading at USD95.71 a barrel, while heating oil futures for July delivery were down 0.16% at USD2.8855 per gallon.