Investing.com - U.S. grain futures ended Friday's session broadly higher, with wheat and soybean prices rising to two-week highs amid indications of robust demand for U.S. supplies.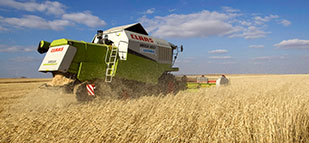 On the Chicago Mercantile Exchange, wheat for May delivery rallied 2.4% on Friday to settle the week at USD7.1412 a bushel. CBOT wheat rose to USD7.1588 a bushel earlier in the session, the strongest level since March 28.
The May wheat contract added 2.05% on the week, the second consecutive weekly advance.
Wheat's gains accelerated sharply after prices broke firmly above key their 30-day moving and 40-day moving averages on Friday, triggering a flurry of automatic buy orders amid bullish chart signals.
Sentiment on the grain was boosted after the U.S. Department of Agriculture confirmed that China bought 360,000 tonnes of U.S. wheat for delivery in the 2013-14 marketing year, the largest purchase since January 2004.
Investors also bought the grain amid concerns that adverse weather conditions in major wheat-growing states across the Great Plains-region will hurt the U.S. winter crop.
Wheat traders have been closely monitoring weather and crop conditions in the area, where prolonged dryness threatens dormant winter wheat crops.
Meanwhile, soybeans for May delivery added 0.8% Friday to settle at USD14.1325 a bushel by close of trade. CBOT soy prices rose to a session high of USD14.1888 a bushel earlier in the day, the strongest level since March 28.
On the week, the May soy contract advanced 3.6%, the biggest weekly gain since August, amid growing concerns over tight U.S. supplies.
Earlier in the week, the USDA left its forecast for domestic soybean stocks as of August 31 at 125 million bushels, the lowest since 2004.
Prices found additional support after the USDA said Friday that private exporters sold 110,000 metric tons of soybeans for delivery to unknown destinations during the 2013-14 marketing year.
Market participants commonly interpret listings of sales to "unknown destinations" as a sign of Chinese buying. China accounts for roughly 60% of world soybean imports and its purchases have a big impact on prices.
Elsewhere on the Chicago Board of Trade, corn futures for May delivery climbed 1% Friday to settle the week at USD6.5862 a bushel. Earlier in the session, CBOT corn prices rose to USD6.5962 a bushel.
On the week, the May corn contract rallied 4.5%, the biggest weekly gain since August, fueled by worries about tightening supplies as well.
The USDA said U.S. stockpiles before the next harvest will total 757 million bushels on August 31, below expectations for an increase to 836 million bushels.
Worries over cool and wet Midwest weather which could delay early-season corn planting also supported prices.
In the week ahead, corn and soybean traders will continue to pay close attention to weather forecasts for grain-growing regions in the U.S. Midwest, while wheat traders will monitor temperatures in the Great Plains-region.
Corn is the biggest U.S. crop, followed by soybeans, government figures show. Wheat was fourth, behind hay.