Investing.com - Gold prices extended Tuesday's losses into Wednesday's trading session, as investors sold the precious metal for profits despite the greenback's decline.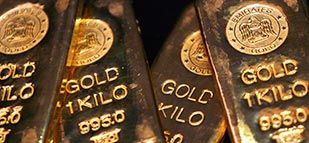 Gold and the dollar tend to trade inversely from one another, though the metal appeared ripe for profit taking as its appeal as a hedge during the Cypriot financial crisis began to wane.
On the Comex division of the New York Mercantile Exchange, gold futures for June delivery were down 0.92% at USD1,561.45 a troy ounce in U.S. trading on Wednesday, up from a session low of USD1,556.35 and down from a high of USD1,577.25 a troy ounce.
Gold futures were likely to test support USD1,554.80 a troy ounce, the low from Feb. 21, and resistance at USD1,608.85, Wednesday's high.
Gold prices dropped as the metal's appeal as a hedge to a weakening euro that grew during the Cypriot financial crisis began to wane this week.
The dollar weakened on softer-than-expected U.S. indicators that sparked talk of monetary stimulus measures staying in place for the time being, which normally sends gold prices gaining.
Investors shrugged off the data and sold gold positions anyway after concluding that prices rose to attractive levels while the precious metal became the hedge of choice the Cyprus crisis.
The Institute of Supply Management reported earlier its non-manufacturing purchasing managers' index fell to 54.4 in March from 56.0 in February.
Analysts had expected the index to decline to 55.8 last month, which weakened the greenback.
Separate industry data revealed that the U.S. private sector added fewer jobs than expected last month.
Payroll processor ADP reported earlier that nonfarm payrolls increased by 158,000 in March, well below expectations for a gain of 200,000, following an upwardly revised increase of 237,000 in February.
The numbers sparked concerns that Friday's official March jobs report may miss earlier expectations for a pickup in job creation, which could convince U.S. monetary authorities to keep policy loose.
Elsewhere on the Comex, silver for May delivery was down 1.42% at USD26.853 a troy ounce, while copper for May delivery was down 1.41% and trading at USD3.331 a pound.