Investing.com - Gold prices gave up Friday's gains on Monday after investors looked past a weak jobs report that had initially quashed expectations that Federal Reserve will announce plans to taper stimulus programs this month.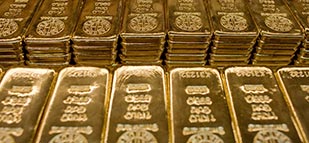 Stimulus programs such as the Fed's USD85 billion in monthly asset purchases weaken the dollar to spur recovery, which makes gold an attractive hedge as long as they remain in place.
On the Comex division of the New York Mercantile Exchange, gold futures for December delivery traded at USD1,385.50 during U.S. afternoon hours, down 0.07%.
Gold prices hit a session low of USD1,382.00 a troy ounce and high of USD1,393.80 a troy ounce.
Gold futures were likely to find support at USD1,361.80 a troy ounce, Friday's low, and resistance at USD1,416.30, Tuesday's high.
The December contract settled up 0.98% at USD1,386.50 a troy ounce on Friday.
The U.S. economy added 169,000 jobs in August, the Bureau of Labor Statistics reported Friday, less than market calls for a 180,000 increase.
July 's figure was revised down to 104,000 from 162,000, while June's figure was revised down to 172,000 from 188,000.
The private sector added 152,000 jobs in August, well beneath expectations for a 180,000 rise.
The U.S. unemployment rate fell to 7.3% in August from 7.4% in July, as more people left the workforce. Analysts were expecting the unemployment rate to remain unchanged last month.
The data initially fueled sentiments that the Federal Reserve may hold off announcing plans to begin winding down its USD85 billion in monthly bond purchases at its Sept. 17-18 policy meeting, though by Monday, many investors backtracked on that opinion, betting that the Fed remains on course to begin scaling back its asset purchases this month even if just by a little.
Fed officials have said they will pay close attention to data when deciding the fate of stimulus programs, and despite a soft August jobs report, the U.S. economy continues to recover.
Elsewhere on the Comex, silver for December delivery was down 0.91% at USD23.673 a troy ounce, while copper for December delivery was up 0.57% and trading at USD3.280 a pound.