Investing.com - Gold prices rose on Monday as investors avoided the dollar as a U.S. government shutdown entered a second week with no end in sight.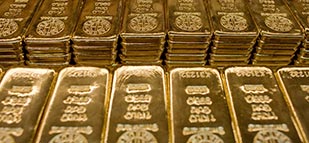 The deadlock weakened the dollar, which tends to trade inversely with gold, especially as fears began to grown the standoff may hike the chance of U.S. default down the road.
On the Comex division of the New York Mercantile Exchange, gold futures for December delivery traded at USD1,321.70 during U.S. afternoon hours, up 0.90%.
Gold prices hit a session low of USD1,308.80 a troy ounce and high of USD1,328.60 a troy ounce.
Gold futures were likely to find support at USD1,278.20 a troy ounce, Wednesday's low, and resistance at USD1,375.10, the high from Sept. 19.
The December contract settled down 0.58% at USD1,309.90 a troy ounce on Friday.
An impasse among U.S. lawmakers and the White House over terms needed to create a spending package and reopen the government sent investors avoiding the dollar on Monday.
Markets were also growing increasingly worried that the deadlock will affect negotiations to raise the U.S. debt ceiling, which the U.S. Treasury Department has estimated will be reached by Oct. 17, after which the risk of default rises.
Republican House Speaker John Boehner said Sunday the House will not support bills to fully reopen the government or increase the government debt ceiling unless the Obama administration agrees to talks aimed at reducing the deficit.
A U.S. default could roil markets and slow U.S. recovery by further eroding confidence in Washington's ability to craft economic policy,
Elsewhere on the Comex, silver for December delivery was up 2.58% at USD22.313 a troy ounce, while copper for December delivery was down 0.16% and trading at USD3.296 a pound.