Investing.com - Gold prices fell on Thursday after U.S. weekly jobless claims came in higher than expected last week, dampening demand for risk-on assets such as gold, which was ripe for profit taking.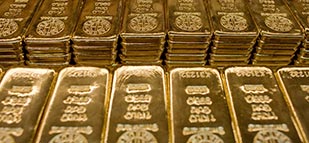 On the Comex division of the New York Mercantile Exchange, gold futures for April delivery were down 1.16% at USD1,662.15 a troy ounce in U.S. trading on Thursday, up from a session low of USD1,658.75 and down from a high of USD1,681.75 a troy ounce.
Gold futures were likely to test support USD1,653.35 a troy ounce, Monday's low, and resistance at USD1,684.35, Wednesday's high.
The U.S. Department of Labor reported that the number of individuals filing for initial jobless benefits last week rose by 38,000 to 368,000, compared to expectations for an increase of 20,000 to 350,000.
Personal incomes in the U.S., meanwhile, jumped 2.6% in December, the largest increase in eight years.
The news sparked a gold selloff as investors avoided the precious metal ahead of Friday's release of the January jobs report.
Gold prices gained earlier this week after the Commerce Department reported that the U.S. gross domestic product contracted for the first time since the second quarter of 2009 in the three months ending December, shrinking by 0.1%.
Economists were forecasting growth of 1.1% after a 3.1% expansion in the preceding quarter, and a Federal Reserve decision to make no changes to monetary stimulus policies and keep benchmark interest rates near zero gave the metal room to rise to levels ripe for profit taking on Thursday.
Meanwhile on the Comex, silver for March delivery was down 2.37% and trading at USD31.413 a troy ounce, while copper for March delivery was down 0.43% and trading at USD3.734 a pound.