Investing.com - Gold prices dropped in Asian trading on Thursday as investors priced in a complacent Federal Reserve and poor Japanese economic data, which stoked demand for the safe-haven dollar.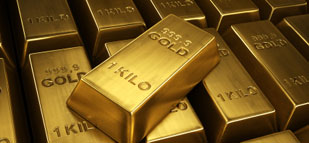 On the Comex division of the New York Mercantile Exchange, gold futures for April delivery were down 0.24% at USD1,677.65 a troy ounce in Asian trading, up from a session low of USD1,675.85 and down from a high of USD1,679.15 a troy ounce.
Gold futures were likely to test support at USD1,658.25 a troy ounce, the low from January 27, and resistance at USD1,692.35, the high on January 21.
On Wednesday, the Federal Reserve's Open Market Committee (FOMC) released the decision from its two day meeting. The FOMC decided not to change its monetary policy in any way, keeping interest rates near zero while continuing to buy roughly USD85 billion worth of securities each month.
With the U.S. economy showing signs of contraction, the Fed's decision not to pursue even more accommodative policy might have been interpreted as negative by the gold market.
Elsewhere, in Japan, economic data indicated that the Japanese economic recovery may be faltering. Japan's industrial production increased only 2.5%, less than the 4.5% economists had been anticipating.
Recent economic data from Japan has shown that the economy may be slowing; coupled with Thursday's industrial production number, the island nation's economy appears to be struggling.
In the U.S., the Federal Reserve is already pursuing extremely aggressive monetary expansion, but it may not be enough to prevent deflation from taking hold of the global economy.
As many gold investors buy the yellow metal for an inflation hedge, the threat of deflation could tame demand in the gold market.
Meanwhile on the Comex, silver for March delivery was down 0.57% and trading at USD31.995 a troy ounce, while copper for March delivery was down 0.31% and trading at USD3.81 per pound.