Investing.com - Gold prices fell in Asian trading on Monday as investors sold the yellow metal for profits after strong German confidence data sent the precious metal soaring late last week.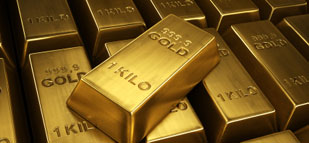 Hopes that I.M.F. and E.U. finance officials will agree to open up aid for Greece sent the dollar falling and the euro rising in recent sessions as well, a recipe for firming gold.
On the Comex division of the New York Mercantile Exchange, gold futures for February delivery were down 0.17% at USD1,750.75 a troy ounce, up from a session low of USD1,750.45 and down from a high of USD1,754.15 a troy ounce.
Gold futures were likely to test support at USD1,720.25 a troy ounce, Wednesday's low, and resistance at USD1,754.95, the high of Oct. 17.
Gold and the dollar trade inversely from one another, and solid data out of Germany sent the euro rising and the dollar falling amid a risk-on trading session last week, which in turn sent gold soaring to levels ripe for profit taking.
The German Ifo Institute reported that its index of business confidence jumped to 101.4 in November from 100.0 in October, beating expectations for a decline to 99.5.
The data came in the heels of a report revealing that Germany's manufacturing purchasing managers' index climbed to 46.8 in November from 46.0 in , beating out market forecasts for a 45.9 reading.
Germany's month-on-month gross domestic product grew 0.2% in the third quarter, in line with expectations.
The broader eurozone's manufacturing purchasing managers' index rose to 46.2 for November from 45.4 in October, above expectations for a reading of 45.6.
By early Asian trading on Monday, investors sold the metal and camped out in the safety of the U.S. dollar to await the outcome of meeting among European finance officials and the International Monetary Fund concerning Greece.
Any decision to free up aid could spark a risk-on trading session and send gold posting fresh gains anew.
Elsewhere on the Comex, silver for March delivery was down 0.34% and trading at USD34.088 a troy ounce, while copper for March delivery was down 0.35% and trading at USD3.526 a pound.