Investing.com - Gold prices fell on Friday after European Central Bank President Mario Draghi warned that the eurozone economy won't see noted recovery until closer to the end of the year.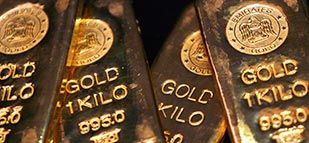 On the Comex division of the New York Mercantile Exchange, gold futures for April delivery were down 0.24% at USD1,667.35 a troy ounce in U.S. trading on Friday, up from a session low of USD1,665.95 and down from a high of USD1,674.15 a troy ounce.
Gold futures were likely to test support USD1,664.05 a troy ounce, Thursday's low, and resistance at USD1,683.85, Thursday's high.
On Thursday, ECB President Draghi warned that economic weakness would stick around during the early part of 2013 and added recovery would kick in later"in the year, which weighed on the euro against the dollar, often a recipe for falling gold prices.
Draghi added that the euro's recent strengthening trend reflected a return of investor confidence in the eurozone.
The metal did see support on solid U.S. and Chinese trade data.
The U.S. Commerce Department reported earlier that U.S. trade deficit in December narrowed to USD38.5 billion from a USD48.6 billion deficit in November.
Analysts were expecting the trade deficit to only narrow to USD46 billion.
Meanwhile in Asia, the Chinese trade surplus fell in January from December thanks to a surge in imports, fueling talk of an improving global economy.
The country's trade surplus hit USD29.20 billion last month, down from a USD31.60 billion surplus reported in December.
Analysts were expecting a USD22 billion surplus.
Meanwhile on the Comex, silver for March delivery was up 0.19% and trading at USD31.462 a troy ounce, while copper for March delivery was up 0.87% and trading at USD3.760 a pound.