Investing.com - Gold futures continued sliding in Friday's session following a bearish day during Thursday's U.S. trade and after another major global bank less-than-enthusiastic comments on the yellow metal.
On the Comex division of the New York Mercantile Exchange, gold futures for February delivery fell 0.13% to USD1,667.65 per troy ounce in Asian trading Friday. Gold futures fell 1.07% during Thursday's U.S. session.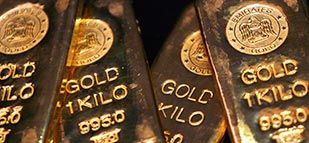 The yellow metal is likely to test support USD1,653.55 a troy ounce, the low from Jan. 11, and resistance at USD1,695.85, Tuesday's high.
The catalyst behind Thursday's slack performance was some profit-taking after a decent run over the past few days on new U.S. policymakers will soon vote to extend the government's debt ceiling for three months.
However, global banking giant HSBC said it has lowered its exposure to gold to 7% from 8% in its strategic portfolio and to 7% from 9% in its tactical portfolio. HSBC. In recent weeks, Citigroup and Goldman Sachs have lowered their price targets on bullion.
Morgan Stanley also lowered its 2013 price forecast for gold by 4% to USD1,773 though the bank did say gold may trade up to USD1,845 per ounce in 2014.
Gold prices are also being hampered by news that demand has waned in India after the country raised its import tariff on gold to 6% to lower its current account deficit. Media reports have said some Indian buyers have not been tempted by significant discounts on gold offered by local dealers. India is the world's largest gold consumer.
Meanwhile, Russia's central bank said it intends to continue purchasing bullion as part of its efforts to bring gold to 10 percent of its total foreign currency reserves. The bank first announced that plan in 2005.
Elsewhere, Comex silver for March delivery 0.25% to USD31.642 per ounce while copper for March delivery added 0.17% to USD3.683 an ounce.