Investing.com - Gold prices fell in choppy Asian trading on Wednesday as the euphoria surrounding the Federal Reserve's quantitative recently announced easing program began to wane.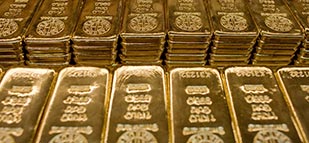 U.S. balance of payments data sent the metal falling as well, though the Federal Reserve still guided trading now that the U.S. central bank has begun pumping liquidity into the financial system to pick up the pace of recovery.
On the Comex division of the New York Mercantile Exchange, gold futures for October delivery were down 0.13% at USD1,765.35 a troy ounce, up from a session low of USD1,765.85 and down from a high of USD1,769.95 a troy ounce early during the session.
Gold futures were likely to test support at USD1,753.75 a troy ounce, Monday's low, and resistance at USD1,773.15, Tuesday's high.
The Federal Reserve on Thursday announced plans to buy USD40 billion in mortgage-backed securities a month from banks on an ongoing basis until the U.S. economy improves, a policy measure known as quantitative easing that weakens the dollar by design.
Monetary stimulus tools in the U.S. weaken the dollar to spur recovery, quantitative easing especially, sending gold climbing, in this case, hitting highs not seen since February of this year.
Gold fell after the announcement amid profit-taking and continued to fall on Wednesday.
The yellow metal, however, did see some support as even though anticipatory trading strategies surrounding Fed policies have ended, as investors returned on Wednesday to take up new positions now that the Fed has actually begun injecting liquidity into the banking sector.
Surprising balance of payments data out the U.S. pushed gold down.
In the U.S., official data showed the current account deficit narrowed more than expected in the second quarter, falling to USD117.4 billion from a deficit of USD133.6 billion in the previous quarter.
Analysts were expecting a USD125.5 billion deficit.
A separate report showed that U.S. net purchases of long-term assets rose to USD67.0 billion in July from USD9.3 billion in June, beating expectations for an increase to USD45.3 billion.
Elsewhere on the Comex, silver for December delivery was down 0.48% and trading at USD34.552 a troy ounce, while copper for December delivery was down 0.13% and trading at USD3.788 a pound.