Investing.com - Gold prices slipped in Wednesday trading after better-than-expected home sales numbers in the U.S. sent the dollar rising.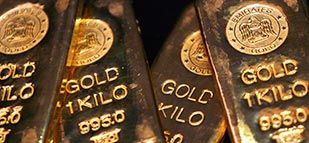 Improving indicators in the U.S. tend to boost expectations that monetary stimulus programs such as the Fed's monthly USD85 billion bond-buying program, which weaken the dollar to spur recovery, will end soon and allow the greenback to rise.
Gold and the dollar tend to trade inversely with one another.
On the Comex division of the New York Mercantile Exchange, gold futures for August delivery were down 0.48% at USD1,328.35 a troy ounce in U.S. trading on Wednesday, up from a session low of USD1,327.35 and down from a high of USD1,347.85 a troy ounce.
Gold futures were likely to find support at USD1,269.45 a troy ounce, the low from July 17, and resistance at USD1,391.35, the high from June 17.
The Commerce Department reported earlier U.S. new home sales jumped 8.3% to 497,000 units, their highest level since May 2008.
Analysts were expecting new home sales to rise 1.8% to 482,000, which bolstered the dollar.
Better-than-expected economic indicators in the U.S. strengthen the greenback and bruise gold prices by fanning expectations that the Federal Reserve will move closer to tapering and eventually ending monetary stimulus measures such as asset purchases.
Gold prices have soared in recent years due to loose monetary policies at the Federal Reserve and at other central banks.
Fed Chairman Ben Bernanke has stressed that the pace of the bank's bond purchases would depend on economic data.
Elsewhere on the Comex, silver for September delivery was down 0.60% at USD20.133 a troy ounce, while copper for September delivery was down 0.08% and trading at USD3.196 a pound.