Investing.com - Gold prices rose in U.S. trading on Friday as investors ditched paper currencies on news that the U.S. economy grew less than expected in the first quarter, while Standard & Poor's slapped a fresh downgrade on Spanish debt.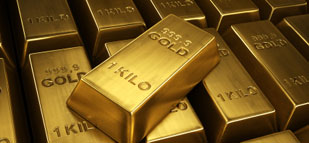 On the Comex division of the New York Mercantile Exchange, gold futures for June delivery traded up 0.30% at USD1,665.45 a troy ounce.
Gold traded at a low of USD1,651.15 a troy ounce and hit a high of USD1,668.35 a troy ounce during the session.
The precious metal sought to test support at USD1,643.15 a troy ounce, the low of April 26, and resistance at USD1,681.15, the high on April 12.
Gold serves as a hedge against weakening paper currencies and uncertainty, which made it very popular in U.S. trading on Friday.
The U.S. Commerce Department reported preliminary figures show the U.S gross domestic product grew 2.2% in the first quarter, below estimates for a 2.5% gain.
Despite improving consumer demand, reduced government spending and business investment cut into growth.
Meanwhile, the Thomson Reuters/University of Michigan's consumer sentiment index hit 76.4 in April, beating expectations for a 75.7 reading.
However, fears that a weaker economy may fuel sentiments the Federal Reserve will stimulate the economy via monetary easing sent the dollar falling and the yellow metal rising.
In Europe, U.S. ratings agency Standard & Poor's downgraded Spain, the second such move this year.
Aside from cutting Spain's long term debt rating to BBB-plus, the agency slapped a negative outlook rating on the country as well.
Furthermore, Spain's jobless rate hit 24.4%, an 18-year high, the National Statistics Institute reported.
The news sent investors stocking up on gold positions on sentiment monetary authorities in both Europe and the U.S. may prop up their economies via easing.
Meanwhile, in Japan, the central bank there expanded its plan for government-bond purchases by JPY10 trillion to halt the currency's weakening trend as expected.
Elsewhere on the Comex, silver for July delivery was up 0.25% and trading at USD31.353 a troy ounce, while copper for July delivery was up 1.33% and trading at USD3.824 a pound.