Investing.com - Crude oil futures edged lower on Wednesday, after a report from the U.S. government showed that oil supplies fell less-than-expected last week.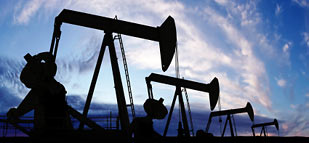 On the New York Mercantile Exchange, light sweet crude futures for delivery in October traded at USD107.22 a barrel during U.S. morning trade, down 0.15%.
Nymex oil prices traded at USD107.52 a barrel prior to the release of the supply data.
New York-traded oil futures held in a range between USD106.58 a barrel, the daily low and a session high of USD108.00 a barrel. The October contract settled down 1.95% at USD107.39 a barrel on Tuesday.
Oil futures were likely to find support at USD105.86 a barrel, the low from September 2 and resistance at USD110.44 a barrel, the high from September 9.
The U.S. Energy Information Administration said in its weekly report that U.S. crude oil inventories fell by 0.2 million barrels in the week ended September 6, compared to expectations for a decline of 1.5 million barrels.
Total U.S. crude oil inventories stood at 360.0 million barrels as of last week.
The report also showed that total motor gasoline inventories increased by 1.7 million barrels, confounding expectations for a decline of 1.25 million barrels.
Easing fears of any immediate military action in Syria also added to the selling pressure.
In an address to the nation late Tuesday, President Obama said that he had asked Congress to postpone a vote on taking military action against Syria.
Instead, Obama said that he will explore a plan proposed by Russia for Syria to place its chemical weapons under international control.
Oil prices surged to a 27-month high of USD112.22 a barrel on August 28 amid indications the U.S. was close to taking military action against Bashar al-Assad's government.
While Syria is not a major oil producer, investors fear that the two-year-old civil war could spill over to affect oil supplies in nearby countries.
Countries in the Middle East and North Africa were responsible for 36% of global oil production in 2012.
Elsewhere, on the ICE Futures Exchange, Brent oil futures for October delivery was little changed to trade at USD111.31 a barrel, with the spread between the Brent and crude contracts standing at USD4.09 a barrel.
London-traded Brent prices plunged 2.2% on Tuesday to hit USD110.59 a barrel, the lowest level since August 26.