Investing.com - Crude oil futures inched lower on Wednesday, but losses were limited as market players continued to monitor developments surrounding a possible U.S. military strike on Syria.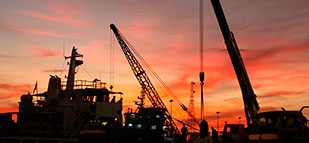 On the New York Mercantile Exchange, light sweet crude futures for delivery in October traded at USD108.10 a barrel during European morning trade, down 0.4%.
New York-traded oil futures held in a range between USD107.98 a barrel, the daily low and a session high of USD108.60 a barrel. The October contract settled 0.85% higher at USD108.54 a barrel on Tuesday.
Oil futures were likely to find support at USD105.06 a barrel, the low from September 2 and resistance at USD110.03 a barrel, the high from August 29.
Concerns over a U.S. military intervention against Syria's government shifted back into focus on Tuesday after the Republican House Speaker John Boehner endorsed President Barack Obama's call for military strikes.
Oil prices surged to a 27-month high of USD112.22 a barrel on August 28 amid indications the U.S. was close to taking military action against Bashar al-Assad's government.
While Syria is not a major oil producer, investors fear that the two-year-old civil war could spill over to affect oil supplies in nearby countries.
Market players are also concerned about the involvement of Iran, OPEC's sixth-biggest oil producer.
Meanwhile, investors continued to speculate over the timing of the Federal Reserve's widely expected reduction in monthly bond purchases.
Data on Tuesday showed that manufacturing activity in the U.S. expanded at the fastest rate since April 2011 in August.
The Institute for Supply Management said its purchasing managers' index rose to 55.7 in August from a reading of 55.4 in July. Analysts had expected a reading of 54.0.
The upbeat data reinforced the view that the Fed could start to unwind its stimulus program at its upcoming policy meeting on September 17-18.
Investors were now looking ahead to Friday's highly-anticipated U.S. nonfarm payrolls report which is seen as key to the Fed's decision on tapering.
The central bank is scheduled to meet September 17-18 to review the economy and assess policy.
The Fed's stimulus program is viewed by many investors as a key driver in boosting the price of global equities.
Oil traders also looked ahead to the release of fresh weekly information on U.S. stockpiles of crude and refined products to gauge the strength of oil demand in the world's largest oil consumer.
The American Petroleum Institute will release its inventories report later in the day, while Thursday's government report could show crude stockpiles fell by 1.9 million barrels.
The data comes out one day later than usual due to Monday's Labor Day holiday in the U.S.
Elsewhere, on the ICE Futures Exchange, Brent oil futures for October delivery shed 0.1% to trade at USD115.57 a barrel, with the spread between the Brent and crude contracts standing at USD7.47 a barrel.
London-traded Brent futures have been well-supported in recent sessions amid ongoing concerns over a disruption to supplies from Libya.