Investing.com - Crude oil futures came under pressure on Wednesday, after the International Monetary Fund cut its estimate for China's economic growth in 2013 and 2014.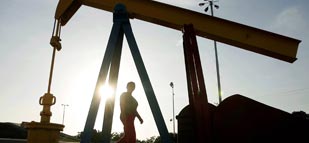 Investors also looked ahead to key U.S. weekly supply data to gauge the strength of oil demand from the world's largest consumer.
The U.S. and China are the world's two largest oil consuming nations.
Market players also shifted their focus to a meeting of the Organization of the Petroleum Exporting Countries in Vienna later this week.
OPEC is forecast to keep its supply target unchanged at 30 million a day on May 31.
On the New York Mercantile Exchange, light sweet crude futures for delivery in July traded at USD94.22 a barrel during European morning trade, down 0.85% on the day.
New York-traded oil prices fell by as much as 0.95% earlier in the day to hit a session low of USD94.16 a barrel.
The IMF lowered its growth estimate for the Chinese economy in 2013 and 2014 to 7.75%, down from a previous estimate of 8% and 8.2% respectively.
China is the world's second largest oil consumer after the U.S. and has been the engine of strengthening demand.
Oil traders now looked ahead to the release of fresh weekly information on U.S. stockpiles of crude and refined products to gauge the strength of oil demand in the world's largest oil consumer.
The American Petroleum Institute will release its inventories report later in the day, while Thursday's government report could show crude stockpiles fell by 0.8 million barrels.
The report comes out a day later than usual due to Monday's Memorial Day holiday in the U.S.
The U.S. is the world's biggest oil consuming country, responsible for almost 22% of global oil demand.
Oil prices rallied 1% on Tuesday to hit a one-week high of USD95.91 a barrel, after data showed that U.S. consumer confidence rose to the highest level since February 2008 in the current month.
The Conference Board said its index of consumer confidence rose to 76.2 in May from 69.0 in April and beating expectations for a reading of 71.0.
A separate report showed that the Case-Shiller U.S. home price index rose 10.9% in March from a year earlier, the biggest increase since April 2006.
Elsewhere, on the ICE Futures Exchange, Brent oil futures for June delivery shed 0.5% to trade at USD103.73 a barrel, with the spread between the Brent and crude contracts standing at USD9.51 a barrel.