Investing.com - Crude oil futures ended Friday's session modestly lower, coming off a ten-week high after a U.S. government report showed oil supplies fell less-than-expected last week.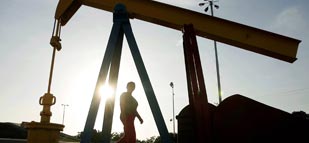 Traders also remained fixated on negotiations between U.S. lawmakers aimed at resolving the looming fiscal cliff crisis.
On the New York Mercantile Exchange, light sweet crude futures for delivery in February shed 0.2% Friday to settle at USD90.69 a barrel by close of trade. Prices rose to USD91.50 a barrel earlier Friday, the strongest level since October 19.
On the week, New York-traded oil futures climbed 2%, the third consecutive weekly gain.
Oil prices turned lower after the U.S. Energy Information Administration said that U.S. crude oil inventories fell by 0.6 million barrels last week, compared to expectations for a decline of 1.85 million barrels.
The report also showed that total motor gasoline inventories increased by 3.78 million barrels, above expectations for a gain of 0.5 million barrels.
Meanwhile, market players remained focused on developments surrounding the fiscal cliff in the U.S., approximately USD600 billion in automatic tax hikes and spending cuts due to come into effect on January 1 unless Democrats and Republicans agree how to cut the deficit.
U.S. President Barack Obama met with congressional leaders at the White House Friday afternoon, but both sides failed to reach an agreement ahead of the looming year-end deadline.
The gathering included House Speaker John Boehner and Senate Minority Leader Mitch McConnell, both Republicans, as well as Senate Majority Leader Harry Reid and House Minority Leader Nancy Pelosi, both Democrats.
The House of Representatives is due to return to Washington on Sunday. The Senate will be in Sunday as well to try to reach a last-ditch agreement.
Without a deal, the U.S. could fall back into recession and drag much of the world down with it.
On the data front, the National Association of Realtors said Friday that U.S. pending home sales rose 1.7% in November, above expectations for a 1% increase.
A separate report showed that Chicago's purchasing managers' index rose to 51.6 in December, from a reading of 50.4 the previous month, beating expectations for a rise to 51.0.
The U.S. is the world's biggest oil-consuming country, responsible for almost 22% of global oil demand.
In the week ahead, investors will be eyeing Friday's highly-anticipated data on U.S. nonfarm payrolls, as investors attempt to gauge the strength of the country's economic recovery.
Elsewhere, on the ICE Futures Exchange in London, Brent oil futures for February delivery dropped 0.3% Friday to settle the week at USD110.46 a barrel.
The London-traded Brent contract added 1.2% over the week, while the spread between the Brent and the crude contracts stood at USD19.770 a barrel.