Investing.com - Crude prices erased earlier gains on Monday after key Canadian pipelines to the U.S. closed for repairs.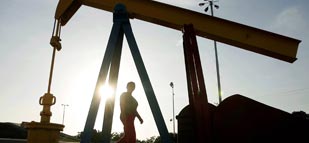 On the New York Mercantile Exchange, light sweet crude futures for delivery in August traded down 0.06% at USD94.90 a barrel on Monday, off from a session high of USD94.95 and up from an earlier session low of USD94.90
Pipeline closures from Canada to the U.S. due to flooding sent prices rising on Monday, briefly offsetting sentiments that the Federal Reserve will soon begin to dismantle monetary stimulus programs.
Fed Chairman Ben Bernanke has said stimulus programs may taper this year and possibly end next year if the economy improves.
The Federal Reserve Bank of Philadelphia said Thursday that its manufacturing index rose to 12.5 in June from -5.2 in May, well above expectations for a -2.0 reading.
A separate report showed that U.S. existing home sales climbed 4.2% to 5.18 million units in May from April's total of 4.97 million, far surpassing market calls for a 0.6% increase.
Stimulus measures such as the Fed's USD85 billion monthly bond-buying program weaken the dollar.
A stronger greenback tends to make oil a less attractively priced asset in dollar-denominated exchanges, especially in the eyes of investors holding other currencies.
On the ICE Futures Exchange, Brent oil futures for August delivery were up 0.03% at USD101.08 a barrel, up USD6.13 from its U.S. counterpart.