Investing.com - Crude oil futures erased last week's strong gains in choppy Asian trading on Monday, as investors sold the commodity for profits.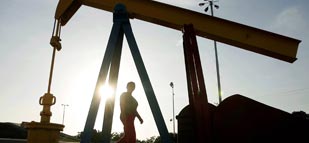 Oil soared last week after the Federal Reserve announced plans to stimulate the economy via a third round of quantitative easing.
On the New York Mercantile Exchange, light, sweet crude futures for delivery in November traded at USD99.28 a barrel on Monday, down 0.06%, off from a session high of USD99.52 and up from an earlier session low of USD99.15.
Late last week, the U.S. Federal Reserve announced plans to buy USD40 billion in mortgage-backed securities a month from banks on an ongoing basis until the economy improves, a policy measure known as quantitative easing.
The Fed also said it would continue with its Operation Twist program that sees the U.S. central bank selling short-term Treasury holdings in the market while simultaneously buying longer-term instruments with the aim of keeping interest rates low.
The Fed also said conditions meriting low interest rates will likely last through mid-2015.
Monetary stimulus measures in the U.S. often are bullish for commodities.
Such accommodative policies tend to weaken the dollar by design and send commodities prices rising, especially oil, which shoots up on hopes for sustained demand that comes from a jolted economy and also due to a weaker dollar, which makes the commodity a nicely-priced asset in the eyes of investors holding other currencies.
Talk that Saudi Arabia remains committed to keeping prices low by upping supply should the demand arise also kept crude softer, albeit in choppy trading.
On the ICE Futures Exchange, Brent oil futures for November delivery were up 0.04% and trading at USD116.75 a barrel, up USD17.47 from its U.S. counterpart.