Investing.com - Copper futures fell 1% to hit a nine-day low on Monday, after data showed that Chinese home prices fell for the first time in 14 months in January.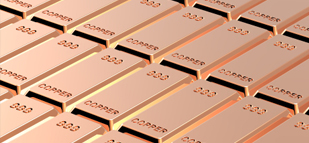 A cooler property sector not only weighs on demand for copper as construction material, but also dampens consumption from the home appliances sector.
The Asian nation is the world's largest copper consumer, accounting for almost 40% of world consumption last year.
On the Comex division of the New York Mercantile Exchange, copper futures for March delivery fell to a session low of $3.213 a pound, the weakest level since February 11.
Copper prices last traded at $3.230 a pound during European morning hours, down 0.95%. The March copper contract ended Friday's session down 0.03% to settle at $3.260 a pound.
Futures were likely to find support at $3.202 a pound, the low from February 11 and resistance at $3.264 a pound, the high from February 21.
Data released by China's National Bureau of Statistics earlier showed that average new home prices in China's 70 major cities rose 9.6% in January from a year earlier, easing from the previous month's 9.9% increase.
It was the first slowdown in the rate of price increases since November 2012. The slight deceleration comes amid attempts by policymakers to cool the property sector and rein in lending.
Meanwhile, market players looked ahead to key U.S. data later in the week to further gauge the strength of the economy. The U.S. is to publish revised data on fourth quarter economic growth, while data on durable goods orders and consumer confidence will also be in focus.
The U.S. is second behind China in global copper demand.
Data from the Commodities Futures Trading Commission released Friday showed that hedge funds and money managers significantly reduced their bearish bets in copper futures in the week ending February 18.
Net shorts totaled 8,888 contracts, down 43.7% from net shorts of 15,792 in the preceding week.
Elsewhere on the Comex, gold for April delivery rose 0.6% to trade at $1,331.40 a troy ounce, while silver for March delivery added 0.3% to trade at $21.88 a troy ounce.