Investing.com - Copper futures rose to a one-week high on Wednesday, as investors awaited the outcome of the Federal Reserve's latest policy meeting later in the trading day, amid speculation the central bank will maintain its stimulus program well into 2014 to support the U.S. economy.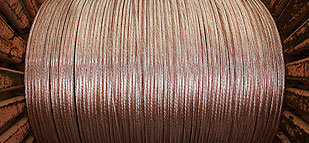 On the Comex division of the New York Mercantile Exchange, copper futures for December delivery traded at USD3.310 a pound during European morning trade, up 1%.
Copper prices rallied to a session high of USD3.318 a pound earlier in the day, the strongest level since October 23.
The December contract ended 0.28% higher on Tuesday to settle at USD3.278 a pound.
Copper prices were likely to find support at USD3.246 a pound, the low from October 29 and resistance at USD3.334 a pound, the high from October 23.
The Fed was not expected to announce any change to its USD85 billion-a-month asset purchase program on Wednesday.
Many investors instead expect the Fed to maintain its stimulus program well into the first quarter of next year, in order to safeguard the fragile U.S. economic recovery in the wake of this month's 16-day government shutdown.
The Fed's stimulus program is viewed by many investors as a key driver in boosting the price of commodities as it tends to depress the value of the dollar.
Meanwhile, copper traders looked ahead to key manufacturing data out of China later in the week to gauge the economic strength of the world's largest copper consumer.
The government will release the official manufacturing purchasing managers' index for October on Friday, while HSBC will also produce final data on its purchasing managers' index for October on Friday.
Copper traders consider shifts in the country's PMI as an indicator of China's copper demand, as the industrial metal is widely used by the sector.
Elsewhere on the Comex, gold for December delivery inched up 0.4% to trade at USD1,350.60 a troy ounce, while silver for December delivery jumped 1.15% to trade at USD22.75 a troy ounce.
Later in the day, the U.S. was to release data on private sector payrolls for October, as well as inflation data for September.
Market players have closely been looking out for U.S. data reports recently to gauge if they will strengthen or weaken the case for the Fed to reduce its bond purchases.