The
USD/MXN
pair is one that a lot of you overlook out there. This is understandable, as the spread will often scare new traders away. However, you have to understand that the pip value in this market is much, much smaller than some of the more common pairs. The
USD/MXN
pair will also move much quicker than a lot of other pairs, so making up a 150 pip spread isn't that hard to do in reality.
The pair has an odd dynamic, as Mexico's economic progress is directly tied into the health of the US economy, and move in favor of the peso when things are good. One of the biggest movers is the repatriation of currency into Mexico from migrants workers in America, moving the pair inversely to what you would think. Also, the pair is a proxy for Latin America in general, so this pair can also move on the idea that more companies are investing in places like Mexico, Guatemala, Costa Rica, and others.
The oil markets are often important in the analysis of this pair as well. The Mexicans drill extensively in the Gulf of Mexico, and other areas in their territory. As a result, the peso is a bit of a "petro currency." The peso rises with the value of oil, and vice versa. All of the dynamics that I have mentioned continue to drive this pair back and forth, and as a general rule – the peso gaining is a good sign.
Looking at the weekly chart below, we are approaching the 12.6 level in this pair. Historically, we have seen support at this area, and as a result, I think there will be a signal soon. The daily chart is probably where you will need to look for it, but I think if we see a supportive candle such as a hammer, then a buy trade could be initiated.
If we get a close on the daily chart below this all-important area, we of course would start selling. However, remember that this will more than likely be accompanied by news flow out of America focusing on the so-called "fiscal cliff." If Congress fails to come together, we could see a run to the dollar as people load up on US Treasury notes.
If that's the case, then a bounce makes perfect sense. Otherwise, a breakdown in this pair would signal a move in the "correct direction" economically.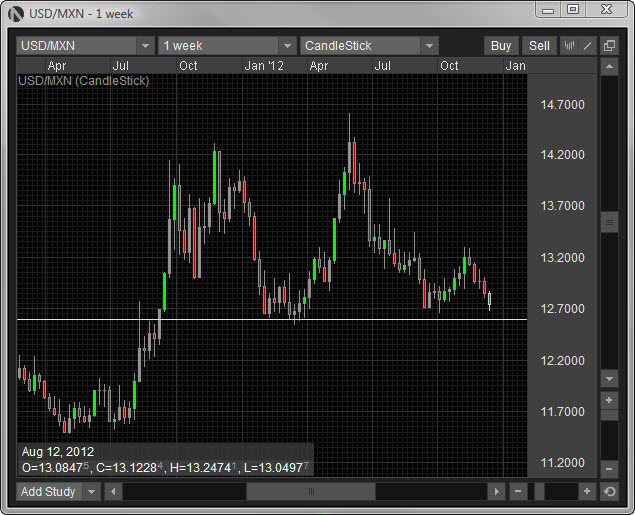 USD/MXN
" title="
USD/MXN
" width="490" height="324" />