Declining expectations for global growth and policy changes at the Federal Reserve weighed heavily on oil prices into the closing months of 2013. For many, this was not entirely surprising given the fact that tapering in US quantitative easing programs marks a significant negative for demand in energy products. Furthermore, reduced stimulus dampens projections for emerging markets, as well, as slower growth in developed markets means slowing exports and a more limited outlet for manufacturing productivity.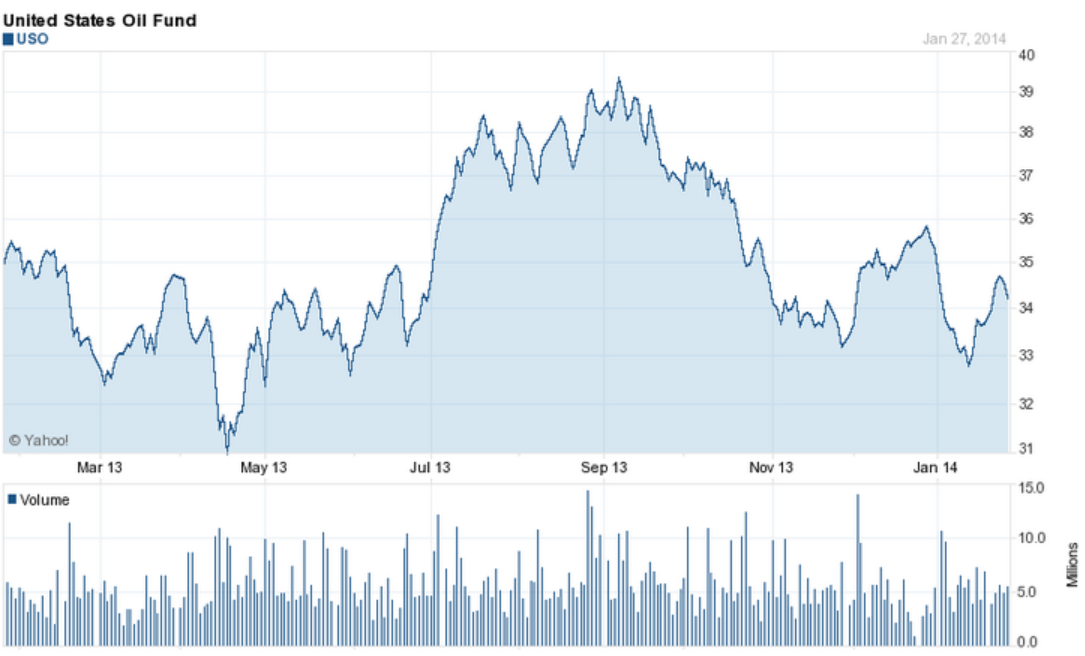 But we have already started to see evidence for a reversal in market trends, and oil prices have rebounded significantly in the early parts of 2014. Commonly traded ETFs like the United States Oil Fund, (USO) have already posted gains of nearly 6% on the year after rebounding sharply from levels below $33. These are important developments for commodities markets, as this ETF most closely marks changes in the underlying oil price. But while the medium term trends in oil might be changing, this does not necessarily mean that buying directly into oil futures or ETFs is the best choice. For those with longer term investment horizons, it makes much more sense to buy into the energy companies themselves.
Supportive Factors in Energy Stocks
A big reason for this assertion comes from the fact that stock markets have not yet replicated the moves seen in the underlying commodities prices. Key examples of this can be seen in Cabot Oil & Gas Corporation, (COG) and EOG Resources Inc, (EOG), which are looking more and more attractive for those that want to gain exposure to large-cap stability. Into 2017, guidance and project planning at EOG Resources suggest scenarios that could easily lead to corporate growth rates above 10%. For those looking for better growth prospects, companies like Octagon 88 (OCTX) offer some interesting alternatives, given its increased exposure to markets in emerging Asia.
All three stocks are positioned to hold up under any short term fluctuations in the underlying oil price, so even if we do see some weak points in oil during the later parts of the year, it is unlikely that any of these choices will be materially affected, given current valuations and pipeline projects.
Outlook for Commodities Investors
Of course, the fate of energy stocks (and of oil itself) will continue to be dictated by changes in global growth expectations, supply inventories in the world's largest oil consumers, and individual demand prospects. For those choosing stocks, it is important to look for selections that can withstand periods of market volatility in commodities valuations. But the ultimate basis for choosing a bullish or bearish stance in these areas should continue to be supported by rising demand in emerging Asia, and in limited inventory supplies in the US.
Since these regions make up the largest markets for energy products, these are the key factors that will either support or pressure oil prices for the remainder of the year. So far, it appears that the decline from 2013 has run its course -- and this is supported both by the technical and fundamental side of things. Watching developments in the United States Oil Fund LP ETF is a good way of determining market sentiment going forward. As long as we hold above the yearly lows at $33, oil markets should recover most of the ground that was lost toward the end of last year.