Like Monday the S&P 500 yesterday opened at its intraday low and made its biggest advance in the first two minutes. It reached its morning high shortly before 11 AM and then traded in a fairly narrow range for the remainder of the session. A small surge in the final minutes set a 0.74% intraday high with the close fractionally lower at 0.73%. This was day six of the September rally, with the index up 3.12% for the month so far, the longest rally since the eight-day rally in early July. The popular financial press attributes the latest gains to relief that the odds of a US attack on Syria are fading.

The yield on the 10-year note closed at 2.96%, up 6 bps from Monday's close and 2 bps off its interim closing high last Thursday.

Here's a 10-minute look at the week so far.

Participation in yesterday's rally was better than Monday with the volume above its 50-day moving average.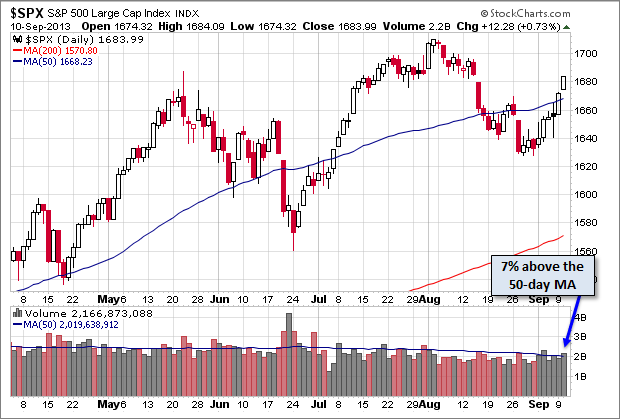 The SPY ETF, which gives a better sense of trader mentality, was saw better volume than yesterday, although it remains a tad below its 50-day moving average.
The S&P 500 is now up 18.08% for 2013 and 1.50% below the all-time closing high of August 2.
For a better sense of how these declines figure into a larger historical context, here's a long-term view of
secular bull and bear markets
in the S&P Composite since 1871.