An analysis of gold and dollar charts show that stocks and gold are now due for a short-term breather. Why is that, you ask, if all markets have just formed major intermediate cycle lows? The reason has to do with the daily dollar cycle. Friday marked the 24th day in the current daily cycle. That cycle generally runs about 18-28 days trough to trough. At 24 days the cycle is well into the timing band for a bottom and bounce.
That bounce should force stocks into a short-term correction, or sideways consolidation, and gold into its next daily cycle low.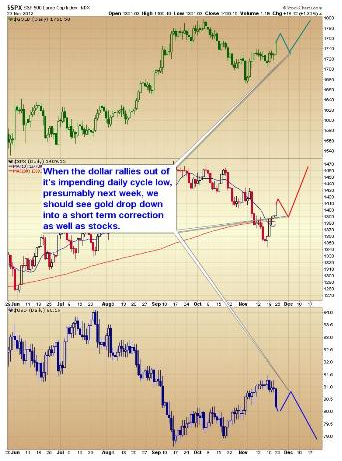 However, don't be fooled by any short-term corrective move as stocks and gold have all clearly formed major intermediate bottoms. There are always corrective moves along the way, nothing goes straight up, but intermediate cycles don't usually form a final top until sometime around week 12-15. As last week was only week 1 of a new intermediate cycle, we probably don't need to look for a final top until sometime in February, or early March.
By Toby Connor