Today's highlights:
German GDP (QoQ) (Ger, 07:00 GMT)
German Business Expectations + German Current Assessment + German Ifo Business Climate Index (Ger, 09:00 GMT)
BBA Mortgage Approvals (GB, 09:30 GMT)
Core CPI (MoM) (Can, 13:30 GMT)
More Americans this month said the world's largest economy will improve than at any time in the past decade, led by a surge among Democrats following the re- election of President Barack Obama. The share of households projecting the economy will get better rose to 37 percent in November, the highest since March 2002, according to a survey accompanying the Bloomberg Consumer Comfort Index. That propelled the survey's monthly consumer expectations gauge to 4 from minus 7. Jobless claims fell last week, while the index of leading economic indicators advanced in October, other reports showed.
A Chinese manufacturing index signaled the first expansion in 13 months, adding to signs that economic growth is rebounding after a seven-quarter slowdown. The preliminary reading was 50.4 for a purchasing managers' index released today by HSBC Holdings Plc (HSBA) and Markit Economics. It compares with a final level of 49.5 for October. A reading above 50 indicates expansion.
The economy of the 17 euro nations has slipped back into a recession and the European Commission cut its 2013 growth forecast this month. Sentiment is being undermined by a deadlock over Greek aid and tensions over European Union budget talks that start yesterday in Brussels. The talks resume at 12 p.m. today, based on a new proposal that Danish Prime Minister Helle Thorning-Schmidt said shifts spending between categories without touching the overall sums in the pre-summit draft.
Britain took aim at a 50 billion-euro program for transport, energy and broadband projects known as the "Connecting Europe" facility. France sought to gut the same program, ditching a growth initiative once touted by President Francois Hollande in order to spare the agriculture budget.
EUR/USD:
The pair increased to a two week high after an industry report signaled China's manufacturing expanded this month, adding to evidence the world's second-largest economy is recovering. Today, the pair was trading flat at 1.28828 at the time of writing as investors jumped to the sidelines ahead of the German GDP (QoQ) at 07:00 GMT, and German Business Expectations, German Current Assessment and German IFO Business Climate Index at 09:00 GMT. German growth slowed to 0.2 percent in the third quarter from 0.3 percent in the second, according to a preliminary estimate from the Federal Statistics Office on November 15. Germany's largest trading partner, slipped into recession and the outlook for the global economy has dimmed.
In addition, German business confidence probably fell to the lowest in almost three years in November as a recession in the euro area damped growth in Europe's largest economy. The Ifo institute's business climate index may fall to 99.5 from 100 in October, according to the median forecast of 48 economists in a Bloomberg News survey. If the data arrive as economists are expecting, the
EUR/USD
may fall to the support level of 1.28220. Investors should also watch the news and headlines from the European Union budget talks. The resistance level is at 1.29484. U.S markets are closed for Thanksgiving.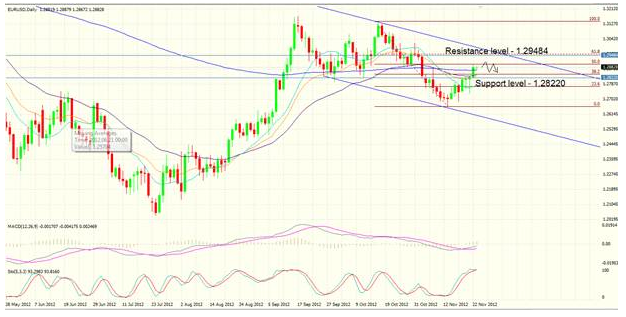 EUR/USD
" title="
EUR/USD
" width="626" height="317" />
USD/CAD:
The
USD/CAD
was trading in the narrow range of 0.99797 and 0.99481 as investors turned cautious ahead of some important economic news in the eurozone that might affect market sentiments for risky assets. Investors will have to monitor German GDP (QoQ) at 07:00 GMT, and German Business Expectations, German Current Assessment and German IFO Business Climate Index at 09:00 GMT to get visibility on the pair.
Data in Germany are expected to show some minor decrease today. Later in the day, Canada will release its Core CPI (MoM), a key risk event. The Core CPI is expected to increase to 0.3% from 0.2% registered previously, which should be bullish for the CAD. Markets in the U.S will be closed today for Thanksgiving. The resistance level is at 1.00391 and the support level is at 0.99072.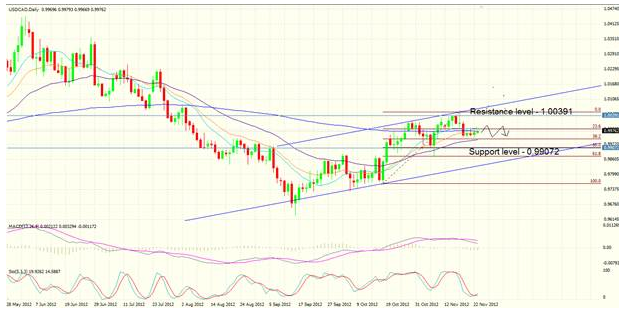 USD/CAD
" title="
USD/CAD
" width="627" height="316" />
Oil (WTI):
Oil was trading higher at 87.710 after data showing manufacturing activity in China expanded for the first time in more than a year last month. China is the world's second largest oil consumer after the U.S. However, the gains were limited as a cease-fire between Israel and Hamas eased concern that tension in the Middle East will disrupt the region's crude supplies. Trading seems sticky as investors jumped on the sidelines waiting for some economic data in the eurozone for some visibility. Germany will release its GDP (QoQ) at 07:00 GMT, and Business Expectations, Current Assessment and Ifo Business Climate Index at 09:00 GMT.
These data will bring some volatility on the commodity. In addition, German Chancellor Angela Merkel said an agreement to unlock a delayed bailout installment for Greece was still possible when eurozone finance ministers resume talks on Monday. Investors should watch the news and headlines from the European Union budget talks for more indication. The resistance level is at 88.782 and the resistance level is at 86.089.